A recent survey proves the NY majority is pro-plant.
In February 2021, Siena College Research Institute surveyed 800 New York state registered voters on our behalf. As of March 11th, 2021, the results are in! While you could read the press release, we wanted to chat less formally about the results—and provide additional background regarding why we sought this information in the first place! So, here's the scoop.
Legalization is Lucrative
Our survey consisted of a variety of questions relating to cannabis legalization in New York state. Perhaps the most notable finding is just how many citizens see the value of our industry's tax revenue—84% to be exact.
Why?
Well, considering that 20 million people call New York home, it's estimated that a legal market would bring in an additional 300 million dollars in annual revenue. That's some serious economic relief, and let's not forget about the resulting career opportunities, either!
Disproportionate No More
Speaking of opportunities…
Should the regulation of adult-use cannabis consider diversity? 67% of respondents said YES, racial, ethnic, and gender diversity in the industry is key.
What about the War on Drugs, and the communities most impacted by it?
It was heartening to learn that 69% of survey participants felt it important that these communities experience a positive benefit from adult-use legalization. 58% were also in favor of designating a portion of cannabis profits to help those most suffering the systemic harms of marijuana criminalization.
As you might gather, these inquiries didn't stem from curiosity alone. We have spent the bulk of the past year uncovering ways to address—and begin to reverse—the collateral consequences of cannabis-related incarceration and other social injustices. This survey was a calculated effort to gauge New York's collective view on how our (regulated) industry could better serve its citizens.
We're not just asking the questions. We're seeking the answers.
As our CEO, Joe Bayern, recently said, it is "(…) critical that the adult-use market creates a fair and equitable industry for all, and this includes making sure no one is precluded from employment and business opportunities as the industry evolves."
Curaleaf, as a whole, is working right now to walk this talk.
How?
For one, we have made a nationwide commitment to ensure that 10% of all new hires this year (2021) will include those from populations most frequently impacted by cannabis-related offenses.
Also, we're hosting "First Fridays" educational events to cater to aspiring professionals—specifically those who've been negatively impacted by the drug war. Those that demonstrate a strong commitment to pursuing a cannabis career can become candidates for the Curaleaf Executive Roundtable mentorship program. Through this program, mentees are positioned to bolster and accelerate their professional growth through 1-on-1 relationships with company leaders and industry experts.
As for those already in the canna-biz? We're using our platform to amplify 420 new cannabis brands, suppliers, and advocacy-related, non-profit organizations from underrepresented groups by the time we reach the end of 2025. (Think: BIPOC, LGBTQ+, women-owned, veteran-owned, and disabled-owned businesses.) We've started spotlighting a few of these new, diverse partnerships on our Instagram channel, should you want to check it out!
These activations roll up to an even bigger strategy: to be socially responsible. To be Rooted in Good. We invite you to dig a little deeper at curaleaf.com/social-responsibility.
What else did we learn?
Our primary interactions are with the pro-cannabis population. That said, it's exciting to see that our work to expand cannabis access for all is met with majority enthusiasm from those outside of our tight-knit cannabis community.
Since we're talking statistics, it's time we enjoy a visual. The pie charts below represent some the additional findings from the survey: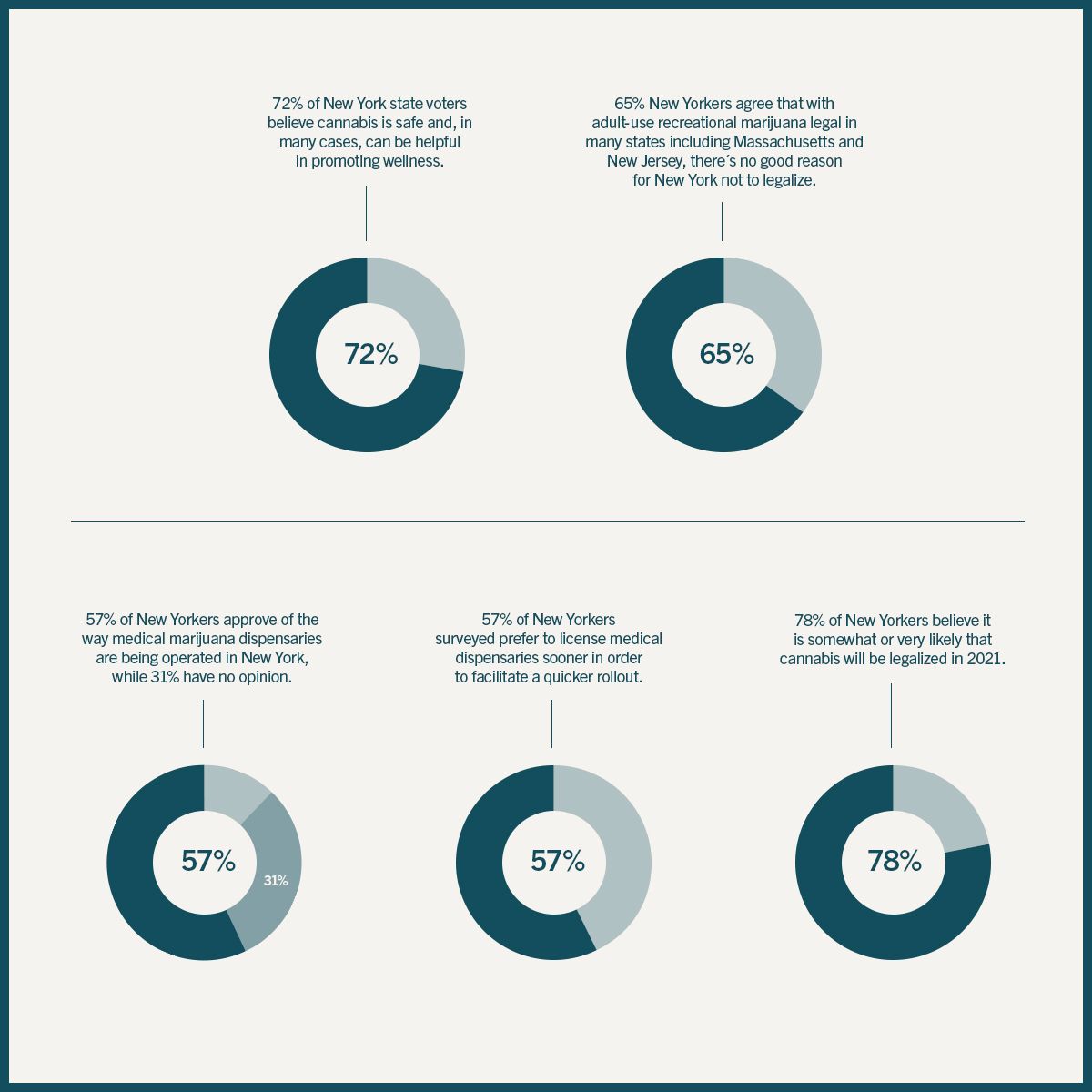 Cannabis with confidence, for all
Per that last stat, we're all feeling optimistic at the prospect of cannabis legalization—soon? Time will tell, but until then, Curaleaf remains committed to doing what's best for our patients, employees, stakeholders, neighbors… everyone! This includes providing you with amazing cannabis products, of course. But it also means laying the groundwork for a cannabis space that is inclusive, supportive, and healthy for everyone, from plant to planet, and everywhere in between.
The next time you visit Curaleaf, ask an associate about our dedication to providing you with a clear, confident cannabis experience. We love to discuss why we're not "just" another cannabis company, but a business that's Rooted in Good!