Welcome to better: Select products are here.
We're committed to bringing you better.
At Curaleaf, our "seed-to-store" model is a unique aspect of what we do. By handling your cannabis at every touchpoint, we're able to offer you exceptional products, with complete confidence. We grow it, process it, formulate it, and distribute it. All so you know exactly what to expect from it. We're incredibly proud of that.
Yet something else we're proud of is our selection. You need options, and we aim to be your cannabis destination. Guess what? The variety of products available in our dispensaries is now even greater. Say hello to Select.Better.
East meet West
Born in Portland, OR, Select is our kindred spirit of the west. We welcomed their brand into the Curaleaf family this year; it's already available in Nevada, Arizona and Maryland. Now, we're excited for our North East communities to see what the buzz is all about.
When it comes to high standards, Select doesn't just meet them–they beat them. That's why they're the #1 selling cannabis oil brand in America. Select products are currently rolling out in our New England dispensaries, with launches in Massachusetts and Maine this summer. (Pssst! States beyond New England should keep their eyes peeled, too.)
Since you can expect to see more of Select at Curaleaf, we asked them to help you get a feel and a flavor for a few of their products:
Hey, Select: Can you tell us about your best-selling signature oil, Select Elite?
S: Three words: Puff, puff, pure. This is the gold standard in oil. The good good oil. The you-deserve-better oil. Select Elite is an activated, broad-spectrum oil with the highest possible level of THC. Better purity, better potency, better flavor. Period. With oil as clean as ours, it's no wonder we're America's #1 selling cannabis oil brand, with the best-selling vape cartridge on the market. This one.
Hey, Select: Can you tell us about your new Nano Gummies?
S: If you're tired of waiting for your edibles to kick in at some random hour, or you've had a bad experience with them, you should try Select Nano Gummies. They're mellow, but mighty. We're talking, fire-pit-under-the-stars kind of mellow. Made using Nano emulsion, they're fast-acting, so you get to enjoy the effects… you guessed it: faster. This is a new kind of gummy. A more consistent, more reliable gummy. A better gummy. The strawberry / peach combo's a Fresh Treat. Or, go for Sour Blues (that's lemon / blueberry.)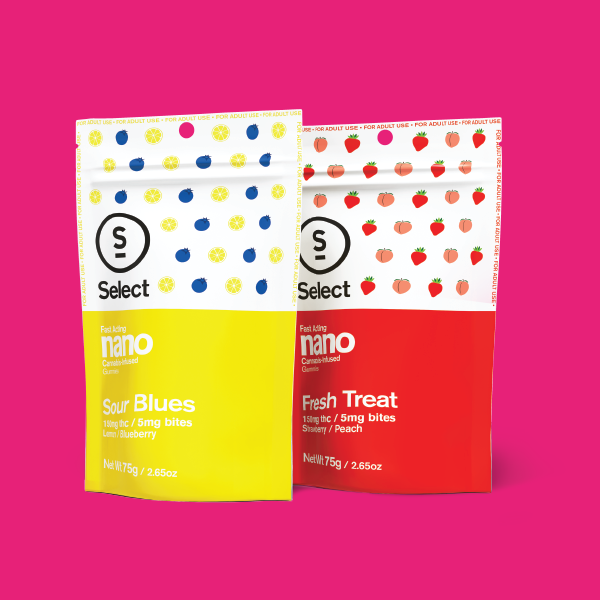 Let's give our new friends a warm welcome
We're pumped to bring Better to a dispensary near you. Select launches in our Curaleaf Massachusetts dispensaries on July 3rd , and at our Curaleaf Maine dispensary on July 16th.
Not in New England? For updates on when Select will be coming to you, follow us both on instagram: @curaleaf.usa + @select.better.
Learn more about our friend Select at SelectCannabis.com. Try Select for yourself by finding your nearest Curealeaf.