Curaleaf Sublingual Tablets
Finally in Florida!
Meet Florida's newest cannabis experience. Curaleaf Sublingual Tablets are here to compliment your wellness plan. The first of its kind in the state, you'll love that this new product is:
SIMPLE With a satisfying soft texture and cool Arctic Berry flavor, they're so quick and easy to take.
PRECISE Each piece is infused with 5mg of high-THC distillate oil. Fine-tune your dose to meet your exact needs; you can even halve them.
CONVENIENT A 30-count jar that's as mobile as you are. Fuss-free administration at its finest!
SUGAR-FREE & DYE-FREE No sugar or coloring here just a beautifully translucent "frosty" sheen.
Feeling Intrigued? Go ahead and Ask Us Anything!
"Sublingual Tablet?" What's that mean?
Great question. While "Sublingual" refers to under-the-tongue administration. "Tablet" refers to each piece. When you place one in your mouth, please note that it acts much like a lozenge; it won't dissolve quickly.
Tell me about the cannabis in them?
We start with our signature cannabis oil; the pure and highly refined distillate our patients know and love! This high-quality oil is then infused into our tablet recipe. Strain qualities have been removed, so these tablets do not exhibit effects related to a specific strain. You also won't experience a strong "cannabis" taste… if any at all. (What you will taste is the refreshing Arctic Berry flavor!)
What's the experience like?
Most report the initial onset of our cannabis sublingual tablets to be around 60 minutes, with full effects present around 90 minutes after consumption. The resulting effect is characteristic of an this type of product; it's a little different than the effects of smoking or vaping your cannabis.
Why? Basically, your body processes that THC a bit differently than it does through inhalation. These tablets are no exception!
How many should I take?
As with any new addition to your wellness regimen, it's a great idea to consult your medical provider for dosage input. We always recommend starting with a small dose. It's also a great idea to wait 90 minutes for full effects to occur before you decide if you want to consume more. Each bottle contains 30 pieces; test out differing doses and discover what's best for you. When you find your sweet spot, you'll know it.
Do I have to take a whole tablet?
Nope! In fact, if you've ever considered micro-dosing, this is a perfect product to explore.
Some patients prefer dividing a tablet to take multiple smaller amounts throughout the day as opposed to one full dose. This also allows you to compare how the time of day can alter your experience. What you prefer in the morning might differ at night!
Are you ready to try this brand-new infusion? Here's where—and when—to find Sublingual Tablets:
All 28 of our Florida dispensaries will carry Curaleaf Sublingual Tablets this month through a phased approach rolling out between August 8th and August 20th. The map below will help you see which week they'll be available for purchase in your neighborhood. (You'll see that they're already up for grabs in several locations!)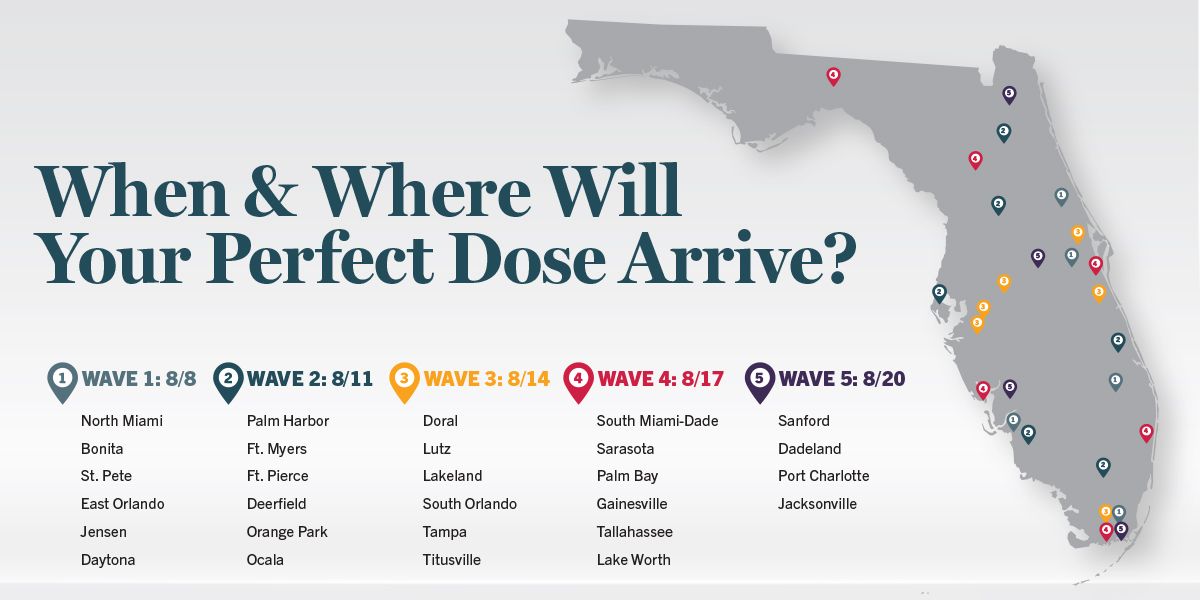 Wait! What if I'm NOT in Florida?!
Because cannabis isn't federally legal, what we offer in one state can vary from the next. Currently, Sublingual Tablets are a Florida-only product. We know it can be frustrating, but here's the good news!
We take great care to ensure every state has a product selection that adheres to the regulations AND fills the needs of as many patients as possible. There's a high probability we've got an ample substitute for our Sublingual Tablets in your state—one that you'll love just as much!
Contact your local Curaleaf to see what's available where you live. We'll help to pair you with the perfect product to meet your unique cannabis goals.