Alive with Flavor!
Curaleaf Live Blends offer fresh live terps with a fruity new taste.
Here's the full story behind the inspiration for this entirely new, live experience—Live Blends.
The popularity of "Live"
With an overwhelming number of cannabis products in today's regulated market, cannabis patients have the benefit of selecting an option that caters to a specific set of needs and desires. One notably popular option is Live Resin.
Traditionally seen as a product for an experienced cannabis consumer, Live Resin captures the full spectrum of one of the cannabis plant's best qualities: terpenes! These are 100+ compounds natively found in cannabis, which create the rich complexity and flavor associated with cannabis flavor. Our Solventless Terpene Extraction [STE] process harvests and utilizes those sought-after, all-natural terpenes to provide a supremely pure and potent product.
A matter of taste
As revered as Live Resin is, it's not for everyone. Just as that true cannabis flavor may be magical for some, others say, "It's just not my cup of tea." This very sentiment was the catalyst for creating Live Blends. Cannabis connoisseurs will often tell you that the effects of a "Live" product provide the highest caliber medication experience. But with that complex taste, many folks shy away. So we decided to craft a product that could fill the need, offering the best of both worlds…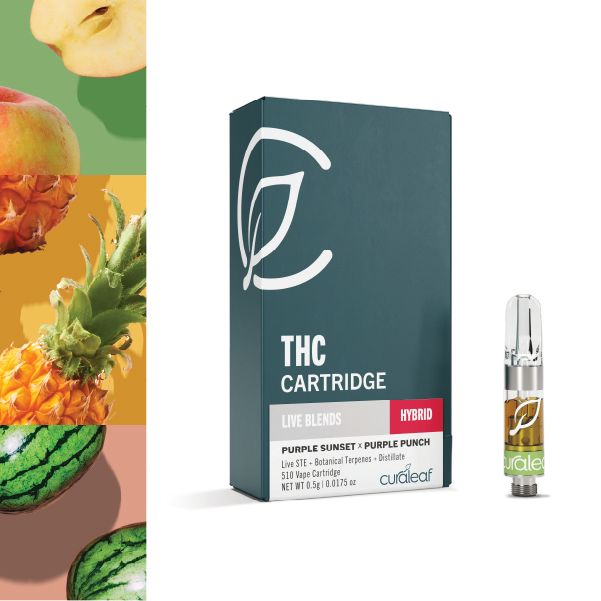 Alive… with flavor!
Curaleaf Live Blends combine the live, strain specific, Solventless Terpene Extract [STE] of freshly harvested cannabis with our premium distillate and a micro-infusion of botanical terpenes.
In simpler terms: You get to enjoy all those live, beneficial compounds—extracted using the cleanest method available—without that intense cannabis flavor.
What you will taste are the added botanicals, which have been carefully paired with their natural, live terpene counterparts for an exquisite "flavor boost" of delicious fruit.
And just so you know, these pairings are anything but random. In the same way that food and wine pairings work to elevate both your meal and your drink, our terpene blends are specifically chosen to create a fruit-forward flavor that, in turn, amplifies the natural flavor of the specific strain used.
All the live, fruity details
The breakdown of these blends is roughly 90/10. That's 90% "STE" (Solventless Terpene Extract), and 10% natural botanical terpenes.
Given that the terpene content has literally been blended, we classify all our Live Blends as Hybrid strains.
Purple Sunset / Pineapple Express Purple Sunset / BlackBerry Kush Purple Sunset / Purple Punch Purple Sunset / Watermelon OG Purple Sunset / Green AppleJack
Live Blends are NOW AVAILABLE statewide. SHOP CURALEAF FLORIDA NOW!
Not in Florida?
Because Medical Cannabis Programs are managed at a state level, the Curaleaf products available in one state often vary from the next. Currently, Live Blends are a Florida-only product.
Never fear! We work tirelessly to ensure there's a wide selection of products in every state in which we operate.
Once you find your Curaleaf, we'll help to pair you with the perfect product to meet your unique cannabis goals with confidence.
Hope to see you soon!