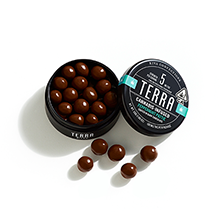 KIVA CONFECTIONS Terra Bite Blueberry Milk | 120mg

at Curaleaf AZ Central - Phoenix, AZ
Terra Bites: Kiva�s Terra Bites are uniquely made with cold water bubble hash providing more of an entourage effect. Offered in roasted Tanzanian coffee beans or organic blueberries, coated in Kiva�s high quality artisan chocolate, and micro-dosed into 5mg of THC per bite.
Grown in natural organic soils and mediums with natural Nitrogen, Potassium Magnesium, Zinc, Calcium, and Phosphorous. No chemical herbicides or pesticides were used during flowering.